800m (1/2 a mile)
Boys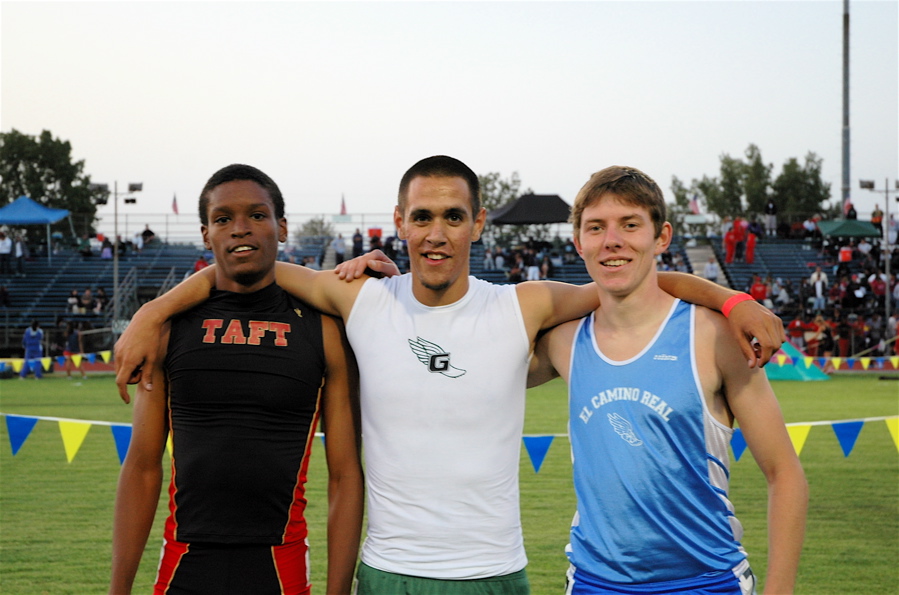 The 800m race was a very tight race for the first 400 meters. But at the end, Derek Isomaki from Granada Hills (middle) gives the rest of the runners an unstoppable kick and wins 1st in 1:58.20 . Adrian Anderson from Taft (left), a very competitive runner. All-City for Cross Country. Tried to give a very hard race to Isomaki, but at the end, Adrian placed 2nd for this race in 1:59.11 . And finally, always in the front pack, Austin Jones from El Camino Real ran a very strong race to finished 3rd in 2:00.76 . All they needed to qualify for the State Finals.
Girls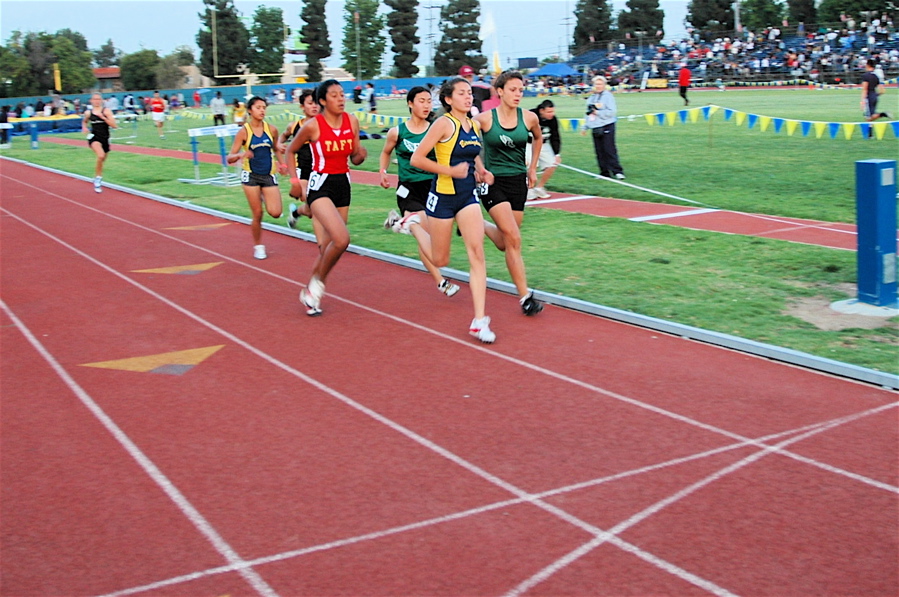 The winner of this race, Melissa Fernandez from Granada Hills (green up front) took this race with no problems in 2:19.93 . Runner-up, from Birmingham High School

1600m (mile)
Boys
One great thing about track and field is that it is unpredictable. New stars seem to come out of nowhere and others just make great leaps by improving their performances over previous years. Perhaps nowhere is that more true than in the 1600. Last year Carlos Bustamante (left) was a 9th grader struggling to run 4:50.10 for 7th place in the City F/S final and now he is on this way to State by finishing 3rd in 4:26.60. The new City Champion, Pablo Rosales, was another 9th grader last year who didn't even run the 1600 at City but finished 5th in the F/S 3200.But now, he comes and takes the City Championship for the mile in Second place finisher David Bensimon (4:25.28) moved up from his 7th place finish (4:29.30) from last year's final. All of them qualified for the State Finals.
3200m (2 mile)
Boys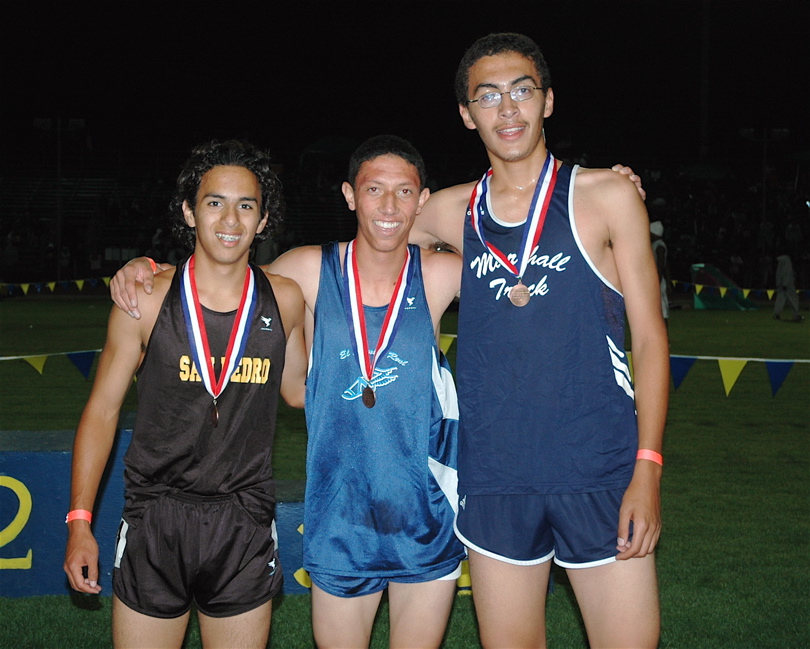 Coming into this race, Jared Long's best 3200 time was 20 seconds behind City leader Pablo Rosales. But when it comes to championship races, past performances mean nothing to this senior from El Camino Real. Always running with the top 3 or 4 leaders, Long refused to let anyone break away and with 200 to go he released that famous finish that he reserves just for these championship meets. The result was one of those "eat my dust" moments as he picked up the City 3200 title in 9:36.41 to go along with his City Cross Country title. 1600 champion, Pablo Rosales, finished 2nd in 9:37.96 and Sami Haimoud ran a great race to improve on his 7th place 07 finish by running 9:44.50 for 3rd place. All of them qualifiers for the State Finals.